as the number of cars in Dubai has increased a lot lately to reach l.83 million cars, so does the business of car insurance in Dubai, it's a very serious and highly profitable business.
therefore it's of the utmost importance to set some laws and regulations to organize this business, insurance policy terms, and the relationship between individuals and the insurance company.
the insurance authority in UAE has issued a motor vehicle insurance policy against loss and damage in order to help organize the matter, and we at Khairallah advocates and legal consultants are here to help you with any legal details.
Read More About: The UAE's law regarding service fees
who needs to get car insurance in Dubai?
in short, everybody.
car insurance law in UAE states that it's mandatory for all cars to be insured before they hit the road, Dubai included. insurance is a very straightforward business with so many benefits for everyone, therefor it's mandatory for all vehicles.
car insurance provides safety and stability in society as it helps relieve the suffering that follows a car accident so all people must register for at least third-party liability insurance.
even if you get a rental car you should ask if the car rental company offers insurance on the car you are renting as the law applies to them and rental cars must have at least Third Party Liability.
Types of car insurance in Dubai
there are several types of car insurance that you choose from and you are required by law to choose one of these plans before you start driving: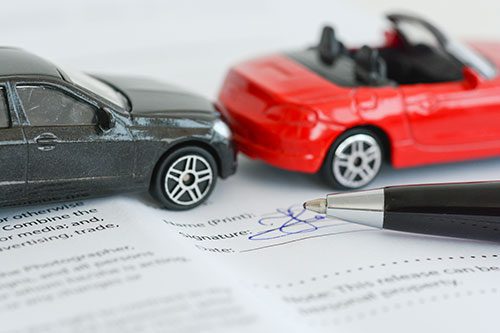 Third-Party Liability (TPL) insurance:
this is the most basic plan that is legally acceptable to have, it's also the cheapest. as it only covers damage that occurs as a result of an accident to a third party's car and passengers, it does not cover your own vehicle.
so this insurance might help you save some money on insurance payments, but in case of an accident, you are going to have to pay to fix your own car.
this type of insurance is the only option available if your car is 7 years old or older.
Benefits of Third-Party Car Insurance
1. Personal Damage
In the event of an accident, this protects both you and the third party. The full cost is paid by third-party insurance if the individual dies or suffers a serious injury.
2. protects your money
By protecting, it greatly preserves your funds. This will safeguard against personal injury in any accident scenario. This insurance policy has full coverage.
3. Reasonable Prices
Affordable rates are offered for the premiums. There are situations where you crash with other pieces of property or move cars. All of this counts as damages. This will save you due to the compensation plan.
Learn More About: Advantages of Having Two Citizenships (Investment Citizenship)
Third-party car insurance Dubai price
In Dubai, the cost of car insurance varies from 1.25 to 3 percent of the car's worth. However, there are undoubtedly additional factors that impact how much a policy will cost, including the driver's age, driving record, experience, etc.
it is a complete insurance plan that requires larger payments and it's optional. however, it covers third-party compensation as well as passengers and your own car even if you caused the accident.
it also covers damage from external reasons such as fires, theft, collisions, external explosions, or any other damages that may occur to your car or yourself while driving.
basically, it provides complete coverage for you as well as any third parties, but your car must be 7 years old or newer to qualify for this kind of coverage.
additional coverage:
these are additional features that you can choose to pay extra to get that are personalized to your lifestyle or your requirements and they extend to cover the following:
agency repair is a perfect fit for luxury cars as it makes sure you only get authentic spare parts and excellent service
off-road coverage for accidents that occur off-road
roadside assistance for sudden breakdowns on the road
Personal Accident Cover for Driver & Passengers for up to 200,000 AED
medical expenses for partial coverage of medical expenses
GCC coverage for coverage when traveling in the Arab gulf countries.
what to do in the unfortunate case of an accident?
accidents happen. that is a fact
God forbids that it may happen to you but in such cases, you should know what to do and how to behave.
the first step is obviously to make sure that everybody is safe and unharmed, otherwise, you should contact an ambulance immediately.
step away from the road if possible but don't go too far or leave the scene of an accident, if the accident is obstructing traffic or blocking the way make sure you signal to other drivers with emergency lights, flairs, or a traffic sign.
call the police right away, the police will write a formal report containing all details including names, registration numbers, and contact info for all parties.
obtain a copy of the police report and make sure that all the facts are taken correctly.
as soon as you are able to inform the insurance company of the accident, you will need to provide them with the police report and your driver's license as well as car registry papers.
the insurance company will provide a claim reference number which you must take to the repair shop along with any other documents the insurance company advises you to take.
the repair shop will give you an estimate for all costs in order to get approval from the insurance company upon which your car will be repaired.
Keep Investigating About: UAE Mediation Centers Handling Dispute Settlements


how much does it take to insure my car in Dubai?
many factors play a role in determining the amount you have to pay to insure your car properly.
the first factor is the type of insurance you choose to get as the Third Party Liability is the cheapest option but you can opt to choose more of a comprehension plan or choose to have more add-ons.
it also depends on the car itself, the year of manufacture, the make and model of the car, and the engine size.
you play a role in determining your own premium as your claims history and your risk profile.
overall car insurance premiums cost approximately around 1.25% to 3% of the car's value.
how much do insurance companies pay?
the insurance company will pay the total amount of car repair (yours and others if it's a Comprehensive policy ) for up to 50% of the car's market value.
if the repairs cost more than 50% of the car's market value, the insurance company will pay the car's value to the insurer as long as it's not more than 2,000,000 AED.
the insurance company will also pay an amount of 200,000 AED in case of the death of one of the insured family members. as well as anyone driving a rented, public, or driver's learning vehicle.
what does the insurance company ask of you?
insurance companies require from you certain standards of safety to make sure that all procedures are up to code.
The Insured must retain all measures in order to safeguard his/her vehicle from loss or damage, they must keep it in a good condition as The Insurance Company has the right to examine the vehicle at any time it chooses.
the insured must not flee the scene of the accident nor leave his car unattended if he/she is obligated to take measures to prevent any further damage.
the insurance company has the right to refrain from payment in case of any of the following violations:
the driver is intoxicated (driving under the influence of drugs or alcohol)
driving without a proper car registry or a driving license
if the car is carrying weight over the authorized limit
If the damage is because of using the vehicle for other purposes than as specified in the insurance policy.
remember to stay safe, and always follow traffic laws and regulations.
Why the Khairallah Lawyers Team is perfect in Dubai?
At Khairallah legal firm in Dubai and Abu Dhabi, we have a team of the best expert lawyers with training in all kinds of cases. Our experts provide you with a variety of services and consulting related to car insurance and other matters. Our team of top advocates are dedicated to their practice and are pleased to share their expertise with your to achieve our ultimate goal of providing you with a complete legal solution that brings peace of mind to you from the very beginning to the end.
We are honored to introduce our best lawyer Husien Aref, a Senior Associate at Khairallah Advocates & Legal Consultants, who has been pursuing the legal profession for the last 29 years.
contact us if there are any questions, you can also read our blog about medical insurance