The United Arab Emirates in general, and Dubai in particular have one of the best health systems, and Visit visa insurance or medical insurance for visitors is a requirement that helps maintain those high standards.
From January till September this year, 10.12 million visitors have landed in Dubai as one of the most desired tourist spots in the world, and Visit visa insurance helps keep everybody safe and healthy.
and with such high standards for medical care, it is not surprising that medical bills have grown substantially as those standers get higher.
so what is Visit visa insurance? how does it work? and how can you apply? and is it mandatory? we at Khairallah advocates and legal consultants will help answer all your inquiries.
first, what is Visit visa insurance or medical insurance for visitors?
Travel Medical Insurance for Dubai or medical insurance for visitors is a medical insurance that covers UAE visitors during the duration of their stay.
it provides medical treatments for visitors for all emergencies and treatments for up to 150.000 AED (except for chronic illnesses)
Visitor Health Travel Insurance Plan is specifically designed to fulfill the medical needs of visitors to the UAE. individual Medical Insurance Policy can be obtained by any person traveling to UAE.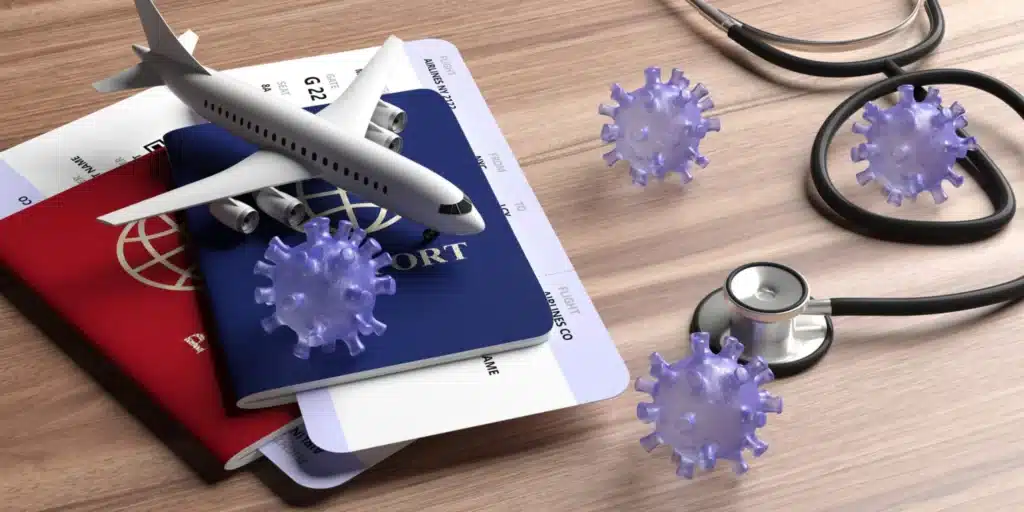 when applying for a visa it's mandatory to show proof of travel medical insurance, therefore it's extremely necessary to apply for the proper medical insurance beforehand.
if you come from a country that doesn't require a visa to enter the UAE then you may enter the country without having insurance.
this also applies in situations where you can apply for a visa after arrival, but we highly recommend that you also have one in case of any emergency.
what are the types of Visit visa insurance?
the type of medical insurance you need depends on how long is your visit, as you can have traveler's medical insurance for 30 days, 60 days, 90 days, or 180 days for multiple entries.
also, the age of the travelers and the number of overall travelers under the policy plays a major role in determining the price.
you could expand your policy but the minimum requirements are as follow :
Emergency medical care and hospitalization
Medical evacuation coverage
return of the remains of deceased
Accidental death and permanent disability
24/7 emergency hotline
the price range of medical insurance for travelers starts with the most basic plan of 30 days for 40 AED, the price goes up depending on duration and add-ons.
according to the director of the (DNRD) Mr. Brigadier or Major General Mohammed Ahmed Al Marri, "The beneficiary will receive treatment at a hospital in case of an accident or emergency. The insurance policy will cover 100 % of services offered to the patient, including hospital accommodation, diagnostics fees, surgery, anesthesiology, and aid for emergency situations leading to hospitalization. The drugs and medicines needed for treatment inside the hospital will also be covered"
where to buy UAE Visit visa insurance?
you could either buy Visit visa insurance from your country before visiting, or you could visit visa insurance websites online and compare offers based on your needs and the duration of your visit.
here are some tips to help you benefit from the insurance experience in the best way :
make sure you have a comprehensive policy that fulfills all your needs since the medical cost in Dubai are extremely high
buy the policy early as you can't have a visa without insurance
compare different policies from different companies
read the policy carefully and learn everything it covers and everything it doesn't cover
if you felt confused or had a problem make sure you contact our excellent legal team for advice
cases that are not covered by Dubai Travel Insurance
Travel medical insurance covers a wide range of medical treatments, emergencies and accident-related injuries, but there are several cases in which the insurance seizes to cover:
injuries while performing high-risk activities which the insurance policy doesn't cover
injuries that occur while intoxicated with drugs or alcohol
injuries occurring due to reckless behavior
chronic illness or pre-existing conditions (except if it's stats clearly otherwise in the policy)
what extra benefits does a full travelers insurance offer?
you can opt to have extra features while traveling, although these features are not legally obligatory to obtain, but it is good to know that these options are available.
these features can extend to your Personal belongings in case of loss or damage coverage, also Hijack coverage in case of any trouble that happened on the flight.
it might cover Trip disruption in case of delays or cancelations or any other trouble that might occur on the road as long that they are not caused by negligence.
nowadays some companies offer Covid-19 Coverage Advantages as well as 24/7 assistance.
we wish you always have fun traveling, but you have to stay careful, take precautions and stay ready with the right insurance policy.
make sure you check our blog for any legal issues you might need to deal with such as car insurance law in Dubai.
At The End
If you are planning to travel to Dubai on a visit visa, it is mandatory to have travel insurance that meets the minimum coverage requirements set by the Dubai Health Authority (DHA). The insurance should cover emergency medical expenses, emergency medical evacuation, and repatriation of remains.
you can contact our best lawyers team that will give you the all information and services you need.